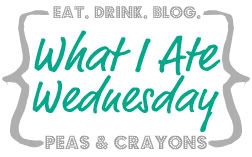 Since taking a
minor break from running
, I had thought my appetite might be on a downward slope of how things usually are. This theory proved to be way wrong, given that I ate the rest of my Easter candy in one (short) sitting Monday afternoon. I would say "oops" but it was totally on purpose and tasted phenomenal so whatever.
Below are my eats from a typical Tuesday, without any running. I did do core and arm exercises from my new favorite app,
Sworkit
, which I have the free version of and loooove it. You tell it what type of workout you want, how much time you have (ranging from 5-60 minutes in 5-10 minute increments) and then it comes up with different exercises that you complete for 30 seconds and then switch. It's a great resource when you want to squeeze in a quick ab workout before heading out to work. Get it, get it!
Breakfast :: 6:30am
Green smoothie (frozen spinach, nanner, pineapple, orange juice, chia seeds, flax meal) and a dirty chai.
Morning Snack :: 9:30am
Two slices of
this banana bread
that I made, ahem, twice last week.
Lunch :: 12:00pm
A salad monster, complete with tons of veggies and a vegan enchilada.
Afternoon Snack:: 4:00pm
An ORANGE. No picture, so I hope that was a good description for you. ;)
Dinner :: 6:00pm
Veggie red curry! Funny, I made this my last WIAW post. Curries are kind of a staple.