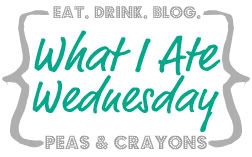 Here we go again! I had such a great time partying with
Jen
last week, I had to come back for more. Since last week I showed you what I ate on a day that I wasn't running, I figured I should probably show what a day of eats looks like when there's some exercise involved.
This was Monday's food selection, which was also the day after I ran 20 miles in a weekend and had to run another 6 miles later on that night. Appetite = raging.
Breakfast :: 6:30am
Bowl o' oatmeal and a sliced apple for dipping purposes. With a large cup of the
best tea in the world
.
Morning Snack :: 9:00am & Afternoon Snack :: 3:00pm
A
fruit and nut energy bar
.
Lunch :: 11:30am
A salad monster, complete with some
chickpea salad
, an apple, nutritional yeast, and ginger dressing.
Dinner :: 6:00pm
Veggie red curry with cauliflower rice. ("Rice"=I cut the cauliflower into florets, pulverized it in the food processor, then steamed it.) For consisting of mainly veggies, this was incredibly filling and lasted me a solid 12 hours until breakfast the next morning.
What is a fruit that you could eat every day until you die and never get sick of?
Are you a fan of Thai food? What's your g-to dish?